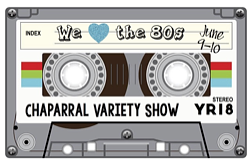 Get out your leg warmers and find your boomboxes . . .
we are hitting rewind on the cassette player . . .
It's the 2018 Chaparral Variety Show:
WE ♥ THE 80s!
June 9-10, 2018
Variety Show Registration is Open now on SchoolPay.com!
Click here to register!
Registration for Variety Show is in full swing! Registration will continue until January 26th  on Schoolpay.com. There will be NO extensions or exceptions to this deadline. You must register each child separately. Please note that a signed, hard copy of the Parent-Student Contract (download contract here) must be turned in to your group leaders on the first day of practice. If you missed the Parent Meeting last week and have any questions or concerns, please contact Chrissie Hand at chaparralvarietyshow@yahoo.com.
Important Dates: Click here to download the parent calendar with important 2018 Variety Show dates.
Questions? 
If you have any questions about what Variety Show is, what the important dates and times are, what the cost is, what the kids do, etc., please review our 2018 Variety Show FAQ.
One of Chaparral's oldest traditions, the Variety Show is a chance for students in all grades to perform live in front of friends, family and our community. Children are generally grouped by grade, and parent volunteers create and teach a musical act at weekly practices, beginning in February up to the show in June. The Variety Show is a community-building and fundraising event. 
For more information, please contact Variety Show Director Chrissie Hand at ChaparralVarietyShow@yahoo.com.