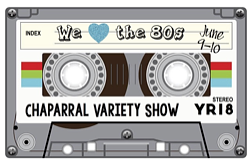 Ticket Sales Start This Week
Tickets will be available at bit.ly/VStix2018 per the schedule below. Note: There is a four-ticket per family maximum during the pre-sale windows.
• 5th Grade pre-sale window: 9 a.m., on May 21 through 9 a.m., on May 22
• J/K – 4th Grade pre-sale window: 11 a.m., on May 23 through 11 a.m., on May 24
• General ticket sales for all grades will begin at 10 a.m., on May 25 (no quantity restrictions)
Back By Popular Demand – Flowers & Photos!
Flowers will be sold at the show for $5. Save yourself a trip to the florist and support our school! Framed photos of each group will also be sold at the show for $5.
Variety Show Digital Download On Sale Now
Go to www.schoolpay.com and order yours today for half the price as last year—only $20 each!
All New Food Vendors – Punch Cards On Sale Now
We will be selling pizza, salads, sandwiches, drinks and snack food this year. Punch cards for student purchases are available on www.schoolpay.com.
If you have any questions about what Variety Show is, what the important dates and times are, what the cost is, what the kids do, etc., please review our 2018 Variety Show FAQ.