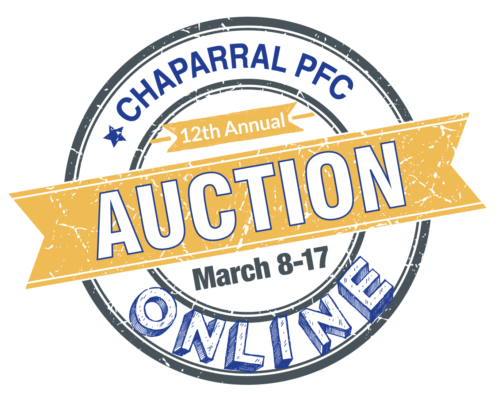 The 12th Annual PFC Online Auction is less than two months away, March 8-17, 2019! We need help from our generous Chaparral community to secure amazing donations. The success of our auction is directly correlated to the strength of our donations!
How can you help?
Got Gift Cards?
The holidays are over, did you get gift cards to a restaurant or store that you won't use? Consider donating a few of those gift cards to the auction. They are an easy way to donate, and really add up!
Request A Donation
Please ask your favorite hair or nail salon, restaurant, gym, kids' play sources and other professional service providers for a donation. In return for their generous donation they will receive the following acknowledgements:
Each donor has the marketing benefit of a direct link to their website through their graphic or image via our online auction site Bidding for Good.
All participating local businesses also will be included in a full-page "Thank You" Ad in The Acorn, the PFC website and Cub Corner. Deadline to be included in this ad is March 1.
Download the Auction Donor Form.
Although many businesses don't require it. You can always ask for a donation and follow up with the form later, if necessary.
Host a party
The holidays may be over, but the parties are just getting started! Grab some friends and start thinking about hosting a party. Hosted parties are a fun way to raise money for Chaparral. Parties can be for kids or adults and as simple or elaborate as you like. Popular themes include: game truck, swimming, popsicles in the park, sports, baking, bowling, moms night out, dads night out, and parent theme parties. E-mail your party details (theme, date, time, hosts & description) to chapauction@gmail.com by March 4.
The Auction is our second biggest fundraiser, and 100% of the money raised is used during this school year to pay for salaries and programs through June 2019. Volunteers are still needed to help in important areas. Donations can be dropped off in the PFC or Main Office. Please email Auction Chair, Allyson Watson, at chapauction@gmail.com