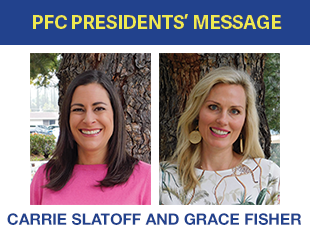 Dear Chaparral Families,
We hope everyone's school year is off to a great start.  We want to begin our message this month by thanking, in no particular order, the following Executive Board Members, Committee Chairs and Coordinators who worked over the summer and into the first few weeks of school to ensure that our events, programs, and communication kicked off flawlessly in the new school year:
Tamar Yudell, Graphic Arts Coordinator: Your creativity, attention to detail, and patience is unparalleled. You worked overtime to put together and publish our shiny Back to School Cub Corner Resource Guide. Thank you so very much, you have our utmost gratitude.
April Baer, VP Communications (website): A million thanks for always being available to manage the PFC website with the most up to date information, creating links to documents, converting documents, and so much more. You are "on it" 24/7 for us and we couldn't be more appreciative.
Julie Berkus and Lindsay Vaisman, VPs Donor Drive: Your enthusiasm for, and your dedication to Chaparral PFC's biggest fundraiser is much appreciated. Thank you both for your new and innovative ideas for Donor Drive.  Speaking of new ideas, have you all seen the new Chaparral Giving Tree? Thank you, ladies, for dreaming it up and thank you Giovanni Ortega from IncaPrint for making it a reality.
Lisa Dumke and Kim Becker, VPs Room Parents: The time (hours upon hours upon hours) and effort you both put into combing through Room Parent applications, updating documents, and training all of the room parents is astonishing. Thank you so very much.
Jen York, VP Sponsorship: Thank you so much for working tirelessly over the summer (and from Boston, no less) to secure sponsors for banners, the printed Cub Corner Back to School Resource Guide, and the PFC's many other sponsorship opportunities.
Suzy Cooper, Karen Spearrin, Melyssa Peters and Aria Starus, TK/Kinder Coordinators: By planning TK/K get-to-know-you playdates over the summer, TK/K Mom's Nights Out and the TK/K Welcome Event you ladies have done a wonderful job in ensuring that Chaparral's TK and K families feel welcome to our wonderful CUBS Community. Thank you for your thoughtfulness and your time.
Melyssa Peters, VP Communications (Cub Corner): Thank you for the countless hours you are spending every week to ensure that the weekly Cub Corner eblast has the most relevant and up-to-date information.
Laura Berlant and Emily Stearn, VPs Community Outreach: We are so appreciative for all you did to set up the Community Discount Card program. And, we are continually thankful for all the ways you find to help raise money for the Chaparral PFC: restaurant nights, Box Tops, Ameci Tops, Ralphs, and more.
Laura Berlant, Social Media Chair: You are a phenom on the social media front; always creating engaging and fun posts for our followers to keep them informed about pertinent news and events. Thank you!
Susie Ming, Disaster Preparedness Supplies Coordinator & Directory Coordinator: Thank you for all the time you spent auditing the emergency supplies and replenishing what was needed. Thank you also, for managing the roll out of the DirectorySpot digital directory (available now!).
Alana Schwartz and Jenna Wood, Staff Appreciation Coordinators: Thank you for planning and executing the fabulous Teacher and Staff Welcome Back Lunch. Everyone was appreciative for the yummy food and drink.
Kate Haney, Treasurer: Thank you for coming in over the summer to cut some checks for invoices that needed to be paid. We are so appreciative.
Deb Shapiro, Cub Wear Coordinator: Thank you for spending time to create new designs for Cub Wear as well as managing inventory and sales.
Jason Weilert, Parliamentarian: Thank you for always being available to answer questions, explain things, and give advice. You are much appreciated!
Last but not least, a big thank you to Donna Welti in the Main Office for supporting our numerous requests for data and documents, and your proof-reading skills; Principal Brazell for being available for collaboration, providing feedback, and answering questions; and Jim McHorney for repeatedly transforming the MPR and other areas of campus to support our events and programs.  We couldn't do it without you all.
To those of you who attended our first PFC Meeting of the year, THANK YOU! We had a record turn out and it was so wonderful to see so many new faces, as well as lots of familiar faces.  We hope you will all join us for our next PFC Meeting and Coffee with the Principal at 8:15am on Wednesday, October 2 in the MPR.
For any PFC questions/comment/concerns, or just to say "hi", please stop by the PFC Office (office hours are every Monday and Wednesday from 8-9:30am). You can also email us at chaparralpfc@gmail.com .
We are looking forward to a fantastic year ahead!
Carrie Slatoff and Grace Fisher
Co-Presidents, Chaparral PFC