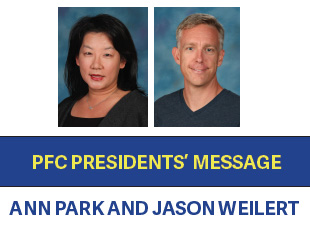 Dear Chaparral Families,
We just finished the last of our spring events focusing on philanthropy and well-being.  Many thanks to Ben Abadian, Melissa Devor, and Maria Nicolacakis, for all of their hard work organizing these meaningful and engaging events.
The third annual Soles4Souls Shoe Drive was a huge success! We donated over 400 pairs of shoes. Thank you for your generosity!
Our participation in the Family Rescue Center Clothing+ Drive was also a huge success. Many bags of clothing were donated by Chaparral families.  Thank you to Ben Abadian for all of his hard work collecting the bags and making sure they got to their destinations.
Students enjoyed a morning of high impact fun and exercise at the  "Hoop It Up Kids" Assembly.  Thank you to Melissa Devor for organizing the assembly (and other ones throughout the year) for Chaparral!  The PFC purchased a set of the special hula hoops for Chaparral so our kids could enjoy them year-round.
Students got their groove on during MovaPalooza! dancing, doing yoga, hula hooping, obstacle course racing, and more! Thank you to Maria Nicolacakis for organizing such a wonderful morning for the kids.
Last but not least… the Farmers Market Jamboree was another huge hit!  Students, parents, city councilmembers, district office and school board members, and many other community members came to the event.  Attendees purchased organic produce and products, did crafts, sang, planted seeds, wrote poetry, relaxed with baby goats and bunnies, and learned about wellness while listening to the soothing sounds of our very own "Mama Bears" band.  We were honored to have Howard and Whitney Schwartz (former Chaparral parents) return to emcee the event and host the Green Team booth.  Thank you to Maria and her tireless committee for their incredible vision and execution of this fun and educational event!!
We are speeding towards the end of the year but still have a few important events coming up.
This week is Staff Appreciation Week. Thank you to those families who signed up to donate dessert and drinks for the Staff Luncheon on Wednesday, May 9!  This Wednesday is also Flower Day, so don't forget to bring stems for your class bouquet.
Contact: Allyson Watson & Lisa Dumke
We hope you can join us at our popular Ice Cream Social. New this year – we will be selling pizza at a nominal cost of $1 per slice!  We will also have Sports N More coaches facilitating fun games for the kids and the Grossman Club hosting a crafts table.  We will once again feature a full ice cream bar with toppings.  This free event is our way of saying THANK YOU to all of our dedicated families.  May 16 (J/K-2) and May 17 (Grades 3-5) on the Upper Yard.
Contact: Kristy Scott & Dayana Kling
The Teachers and Staff cordially invite all parent volunteers to the Volunteer Appreciation Breakfast on Wednesday, May 16 in the MPR, 7:45am-8:30am.  It is such a special event – don't miss it!
Open House is Wednesday, May 23 and the food trucks will be back!  Come early and enjoy dinner and dessert.  We have lined up Hang 10 Tacos, Fries N' More, Hungry Nomad, Jersey Dogs, and Uncle Chris' Italian Ice.
The last PFC Meeting will take place on Friday, June 1. We hope you can join us as we install our new 2018-19 board.  A special invitation goes out to all of our graduating parents so we can thank you one last time for all of your hard work over the years.
We hope to see you at these upcoming events!
Finally, we would like to take a minute to thank a few behind-the-scenes volunteers who quietly put in countless hours year-round to support PFC operations and ensure our success.  We couldn't do it without them.
Beth Anson & Lisa Dumke, Co-VP Room Parents, who facilitate communications and events involving room parents
April Baer, Co-VP Communications, who maintains our ChaparralPFC.org website
Kim Becker, VP Sponsorship, who secures the various forms of sponsorships including fence banners, programs, and digital avenues
Laura Berlant, Recording Secretary, who documents all of our meetings and maintains the PFC Facebook page
Kate Haney, Treasurer, who oversees PFC financials
Sara Traband, Co-VP Communications, who publishes our weekly Cub Corner and creates eye-catching flyers for our events
Gloria Yoo, Financial Secretary, who makes sure our money gets deposited safely
Thank you all for your continued support of the PFC and Chaparral!  We are looking forward to a strong finish to the school year!!
Warmly,
Ann Park & Jason Weilert