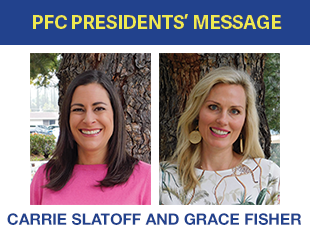 Dear Chaparral Families,
On behalf of the Parent Faculty Club (PFC) at Chaparral, we would like to welcome you to the 2019-2020 school year. We hope you had a wonderful summer and are ready for a fun and enriching year!
As a non-profit 501(c)(3) organization, Chaparral's PFC works side-by-side with the school to achieve a shared goal: to make Chaparral the best school it can be. Our aim this year is to continue to foster Chaparral's strong community while raising funds (more than $325,000!) to provide Chaparral with the additional resources it needs to offer the best educational experience for our kids. Our school's needs exceed the state's funding, so we need your help to close that gap.
We know we can't do it on our own. It truly takes a village! We invite you to get involved and be part of our village. There are many ways to learn more about what we do and how you can help: read the weekly Cub Corner email; browse our website at chaparralpfc.org; attend PFC meetings (8:15 am on the first Wednesday of each month); talk to members of the Executive Board; email us at chaparralpfc@gmail.com; or stop by the PFC Office. We would love to learn about your talents, interests, experience and availability.
Please attend the first PFC meeting of the year in the MPR (Multipurpose Room) on Wednesday, September 4 at 8:15am, followed by Coffee with The Principal. PFC meetings are a great opportunity to learn about upcoming events, meet other parents, introduce ideas, ask questions, and hear Principal Brazell's updates. Every parent is welcome, and we look forward to seeing you there! Please just stop in the Main Office first to sign in.
We will hold PFC Office Hours on Mondays and Wednesdays 8:00-9:30 am (unless there is a PFC meeting, in which case Office Hours will immediately follow the meeting). You can also email us to set up an appointment. The PFC Office is located on the middle level across from the Main Office, just past the "Kinder-Garden." Please stop by to say hello!
Someone once said, "Volunteers are not paid – not because they are worthless, but because they are priceless." We feel this way about all of our amazing volunteers and can't wait to meet you! We look forward to a rewarding year of community-building, fundraising, family, and fun!
Sincerely,
Carrie Slatoff and Grace Fisher PFC Co-Presidents 2019-2020