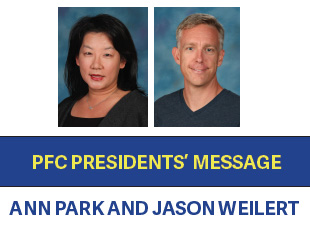 Dear Chaparral Families,
We hope you are having a wonderful spring!!  March was a busy month for our volunteers.
Our 11th annual Online Auction exceeded our expectations, raising over $94,000 – nearly double our target revenue. Our deepest gratitude to returning chair, Carrie Slatoff, for her tireless work and dedication to our far-reaching and exciting auction. Once again, we had bidders from all over the nation!!  Many thanks to the Slatoff family for allowing their home to become an auction warehouse for the past many months!  Special thanks to Allyson Watson for all of her help with the Chaparral Parties and so many other aspects of the auction.  Thank you to all of the families that donated items and hosted parties and to all of the teachers and staff who donated special experiences for our kids. The family parties raised over $22,000 and teachers and staff raised almost $8,000. Finally, thank you to everyone who bid and congratulations to all of the winners!
Our West Valley Food Pantry drive was a huge success.  Thank you to Ben Abadian for organizing the food drive and being on the front line collecting the bags at drop-off every day of the week, with only a rainstorm stopping him.  As a community, you donated so many bags of food that the driver had to make two trips to get them all.  The pantry was overwhelmed by Chaparral's generosity. Thank you to all of you who took time out of your busy lives to donate a bag of food to those less fortunate.
Coming up soon:
Our spring line-up of humanitarian events organized by our beloved Humanitarian Chair, Ben Abadian, continues with our upcoming shoes and clothes drives. Get your spring cleaning done and put aside your gently used items now!!
Soles4Souls Shoe Drive – April 18-25
Family Rescue Center Clothing Drive – April 30-May 4
Our line-up of wellness events organized by our dedicated Wellness Chair, Maria Nicolacakis, and her team kicks off with Move-A-Palooza on April 18 and ends with the popular Farmer's Market Jamboree on April 25.
Finally, please join us at our annual Planning & Recruitment Breakfast on May 2 at 8 am in the MPR and learn about the open positions for 2018-19.  We look forward to seeing you all there!  The monthly PFC meeting will follow.
Warmly,
Ann Park & Jason Weilert